Effective December 2022

Prices are subject to change without notice
Price does not include travel fee for events held outside of the 20 mile free delivery radius
Package Specials can not be combined with any other discounts or promotions
Price listed does not include tax or other applicable fees
**Tents in packages Pole Tents and for a natural grass surface setup only without underground water sprinklers or an irrigation system
***Combo bouncers and specialty bouncers are additional charge in package specials
Don't see a package that fits your event rental needs? Backyard Amusements, LLC offers custom packaging for the items you need for your event. Get your custom package by calling (301) 375 - 8892 or emailing Info@BackyardAmusements.com.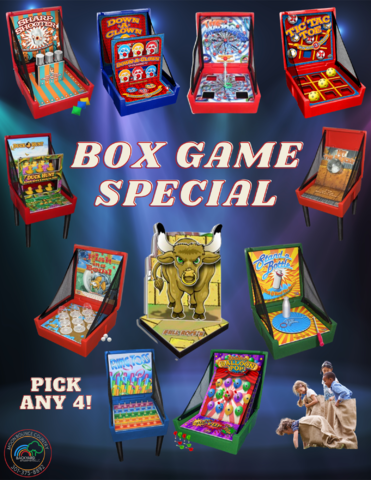 Box Game
Special
$135
PICK ANY FOUR(4) BOX GAMES: BALLOON POP, BULL ROPE'N, DOWN A CLOWN, DUCK HUNT, FISH IN A BOWL, HIT THE BUCKET, RING THE RHINO, RING TOSS, POTATO SACK RACE, SHARP SHOOTER, STAND A BOTTLE, TIC TAC TOE, THE MADNESS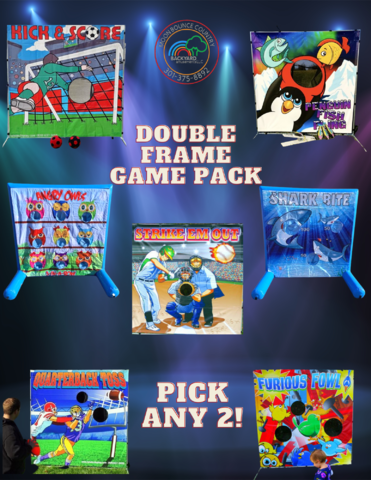 Double Frame
Game Pack
$125

PICK ANY TWO (2) FRAME GAMES: ANGRY OWL, FURIOUS FOWL, KICK N SCORE, PENGUIN FISH FLING, QUARTER BACK TOSS, SHARK BITE, STRIKE EM OUT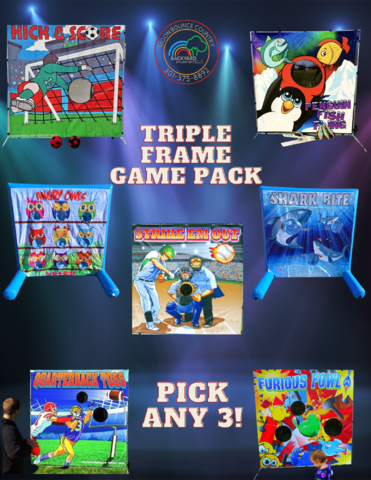 Triple Frame
Game Pack
$175
PICK ANY THREE (3) FRAME GAMES: ANGRY OWL, FURIOUS FOWL, KICK N SCORE, PENGUIN FISH FLING, QUARTER BACK TOSS, SHARK BITE, STRIKE EM OUT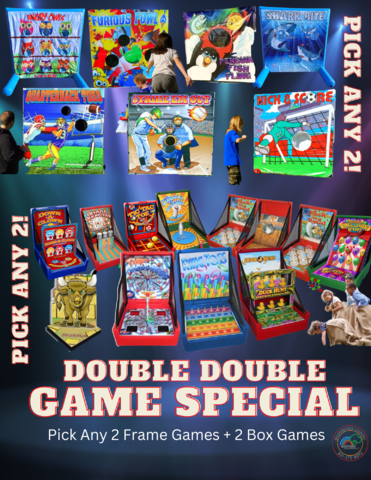 Double Double
Game Special
$195
PICK ANY TWO (2) FRAME GAMES: ANGRY OWL, FURIOUS FOWL, KICK N SCORE, PENGUIN FISH FLING, QUARTER BACK TOSS, SHARK BITE, STRIKE EM OUT

PICK ANY TWO (2) BOX GAMES: BALLOON POP, BULL ROPE'N, DOWN A CLOWN, DUCK HUNT, FISH IN A BOWL, HIT THE BUCKET, RING THE RHINO, RING TOSS, POTATO SACK RACE, SHARP SHOOTER, STAND A BOTTLE, TIC TAC TOE, THE MADNESS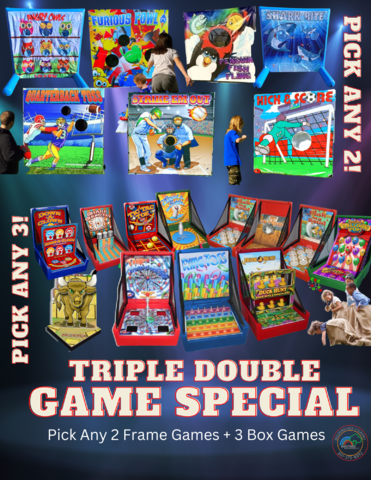 Triple Double
Game Special
$225
PICK ANY TWO (2) FRAME GAMES: ANGRY OWL, FURIOUS FOWL, KICK N SCORE, PENGUIN FISH FLING, QUARTER BACK TOSS, SHARK BITE, STRIKE EM OUT

PICK ANY THREE (3) BOX GAMES: BALLOON POP, BULL ROPE'N, DOWN A CLOWN, DUCK HUNT, FISH IN A BOWL, HIT THE BUCKET, RING THE RHINO, RING TOSS, POTATO SACK RACE, SHARP SHOOTER, STAND A BOTTLE, TIC TAC TOE, THE MADNESS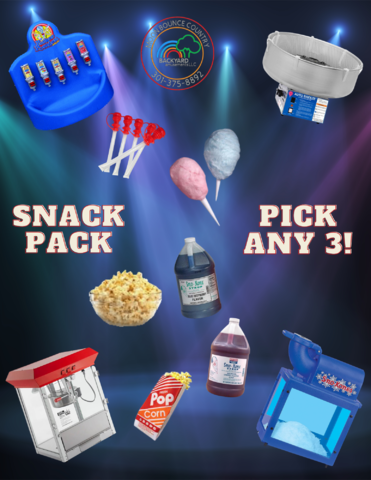 Snack
Pack
$250
PICK ANY THREE CONCESSIONS: COTTON CANDY WITH 50 SERVINGS, SNO CONE WITH 50 SERVINGS, POPCORN WITH 50 SERVINGS, OR PUCKER POWDER WITH 30 SERVINGS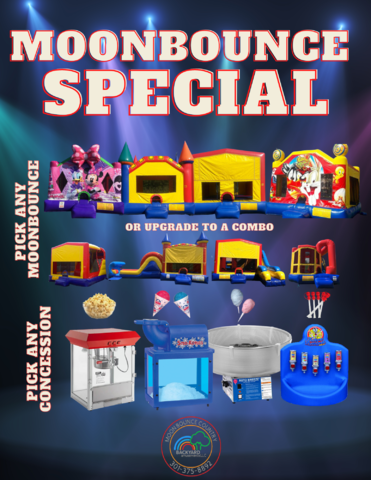 Moon Bounce
Special
$260
PICK ANY MOON BOUNCE OR UPGRADE TO A COMBO BOUNCER

PICK ANY CONCESSION: POPCORN, SNO KONE, OR COTTON CANDY MACHINE WITH 50 SERVINGS OR PUCKER POWDER MACHINE WITH 30 SERVINGS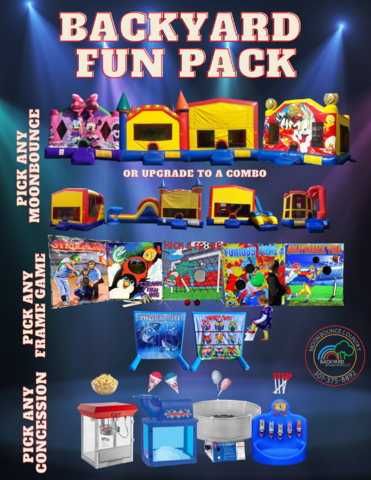 Backyard
Fun Pack
$350

PICK ANY MOON BOUNCE OR UPGRADE TO A COMBO BOUNCER

PICK ANY FRAME GAME: ANGRY OWL, KICK N SCORE, PENGUIN FISH FLING, QUARTER BACK TOSS, SHARK BITE, STRIKE EM OUT
PICK ANY CONCESSION: POPCORN MACHINE WITH 50 SERVINGS, SNO KONE MACHINE WITH 50 SERVINGS, COTTON CANDY MACHINE WITH 50 SERVINGS, OR PUCKER POWDER MACHINE WITH 30 SERVINGS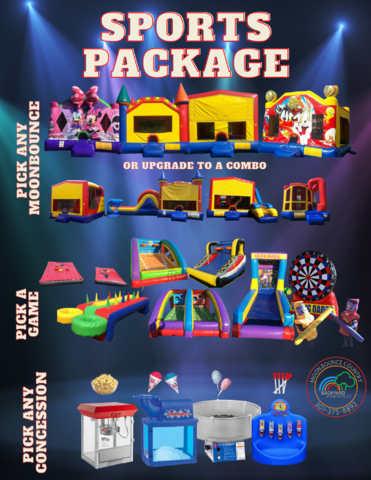 Sports
Package
$415
PICK ANY MOON BOUNCE OR UPGRADE TO A COMBO BOUNCER
PICK AN INFLATABLE GAME: CRAZY CORN HOLE, DARTS, DOUBLE SHOT BASKETBALL, INFLATABLE SKEE BALL, MINI FULL COURT PRESS, MINI QB BLITZ, OR OFF WITH YOUR HEAD

PICK ANY CONCESSION: POPCORN MACHINE WITH 50 SERVINGS, SNO KONE MACHINE WITH 50 SERVINGS, COTTON CANDY MACHINE WITH 50 SERVINGS, OR PUCKER POWDER MACHINE WITH 30 SERVINGS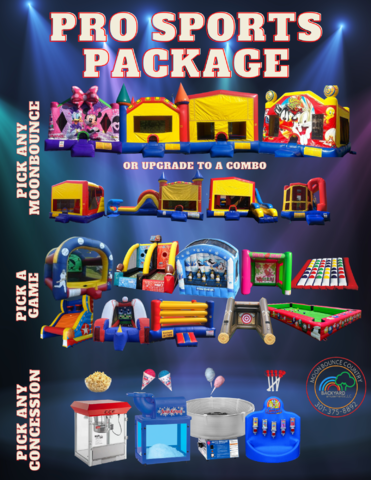 Pro Sports
Package
$450
PICK ANY MOON BOUNCE OR UPGRADE TO A COMBO BOUNCER

PICK AN INFLATABLE GAME: ALL STAR BASKETBALL, BASEBALL CHALLENGE, BATTER UP, BOUNCING BOXING, HUMAN BILLIARDS, OFF WITH YOUR HEAD XTREME, PK SHOOTOUT, QB BLITZ, OR PENGUIN HOOVER BALL

PICK ANY CONCESSION: POPCORN MACHINE WITH 50 SERVINGS, SNO KONE WITH 50 SERVINGS, COTTON CANDY MACHINE WITH 50 SERVINGS, OR PUCKER POWDER MACHINE WITH 30 SERVINGS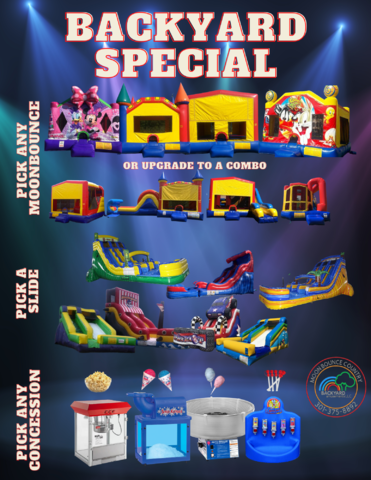 Backyard
Special
$670

PICK ANY MOON BOUNCE OR UPGRADE TO A COMBO BOUNCER

PICK A SLIDE: ADVENTURE GALLEY WATERSLIDE, DUAL SURF SLIP N SLIDE, LIL SPLASH WET, PATRIOT WET SLIDE, ROCKIN RAPIDS WATERSLIDE, OR TROPICAL ISLAND WATERSLIDE

PICK ANY CONCESSION: POPCORN MACHINE WITH 50 SERVINGS, SNO KONE MACHINE WITH 50 SERVINGS, COTTON CANDY MACHINE WITH 50 SERVINGS, OR PUCKER POWDER MACHINE WITH 30 SERVINGS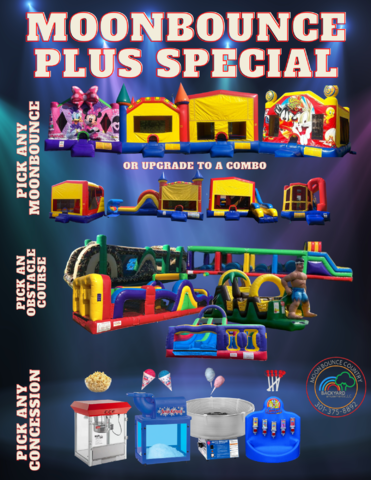 Moon Bounce
Plus Special
$750
PICK ANY MOON BOUNCE OR UPGRADE TO A COMBO BOUNCER

PICK AN OBSTACLE: 38' CAMO OBSTACLE COURSE, 40' OBSTACLE COURSE, SURVIVOR OBSTACLE COURSE, WARRIORS EXTREME OBSTACLE COURSE ($$), OR WARRIORS JUMP OBSTACLE COURSE

PICK ANY CONCESSION: POPCORN MACHINE WITH 50 SERVINGS, SNO KONE MACHINE WITH 50 SERVINGS, COTTON CANDY MACHINE WITH 50 SERVINGS, OR PUCKER POWDER MACHINE WITH 30 SERVINGS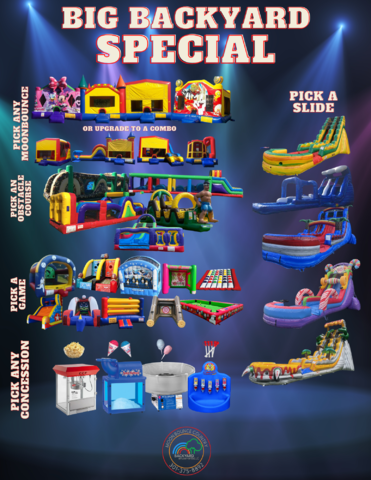 Big Backyard
Special
$1,675
PICK ANY MOON BOUNCE OR UPGRADE TO A COMBO BOUNCER

PICK AN OBSTACLE COURSE: 38' CAMO OBSTACLE COURSE, 40' OBSTACLE COURSE, SURVIVOR OBSTACLE COURSE, EXTREME OBSTACLE COURSE ($$), OR WARRIORS JUMP OBSTACLE COURSE

PICK A WATERSLIDE: BAJA WATERSLIDE, FIESTA WATERSLIDE WITH POOL, TSUNAMI JR WITH SLIP N SLIDE, OR TREX WATERSLIDE
PICK A INFLATABLE GAME: ALL STAR BASKETBALL, BASEBALL CHALLENGE, BATTER UP, BOUNCING BOXING, HUMAN BILLIARDS, OFF WITH YOUR HEAD XTREME, PK SHOOTOUT, QB BLITZ, OR PENGUIN HOOVER BALL
PICK A CONCESSION: POPCORN MACHINE WITH 50 SERVINGS, SNO KONE MACHINE WITH 50 SERVINGS, COTTON CANDY MACHINE WITH 50 SERVINGS, OR PUCKER POWDER MACHINE WITH 30 SERVINGS
PRICE INCLUDES GENERATORS TO POWER EQUIPMENT IN PARTY PACKAGE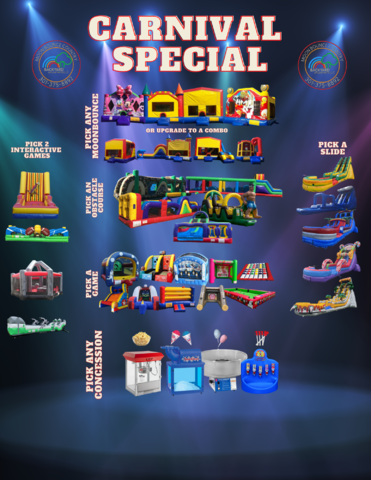 Carnival
Special
$2,150
PICK ANY MOON BOUNCE OR UPGRADE TO A COMBO BOUNCER
PICK AN OBSTACLE COURSE: 38' CAMO OBSTACLE COURSE, 40' OBSTACLE COURSE, SURVIVOR OBSTACLE COURSE, EXTREME OBSTACLE COURSE ($$), OR WARRIORS JUMP OBSTACLE COURSE
PICK A WATERSLIDE: BAJA WATERSLIDE, FIESTA WATERSLIDE WITH POOL, TSUNAMI JR WITH SLIP N SLIDE, OR TREX WATERSLIDE
PICK TWO (2) INTERACTIVE GAMES: 3 N 1 BUNGEE RUN, DEMOLITION BALL, FIRST N GOAL BUNGEE RUN, OR STICKY WALL
PICK AN INFLATABLE GAME: ALL STAR BASKETBALL, BASEBALL CHALLENGE, BATTER UP, BOUNCING BOXING, HUMAN BILLIARDS, OFF WITH YOUR HEAD XTREME, PK SHOOTOUT, QB BLITZ, OR PENGUIN HOOVER BALL
PICK A CONCESSION: POPCORN MACHINE WITH 50 SERVINGS, SNO KONE MACHINE WITH 50 SERVINGS, COTTON CANDY MACHINE WITH 50 SERVINGS, OR PUCKER POWDER MACHINE WITH 30 SERVINGS
PRICE INCLUDES GENERATORS TO POWER PARTY PACKAGE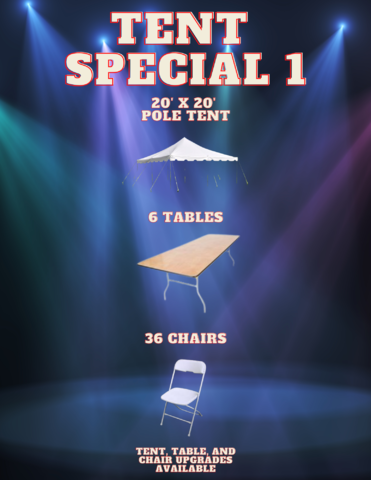 Tent
Special 1
$430
GET A 20' x 20' POLE TENT
SIX (6) 6' RECTANGULAR TABLES AND
36 WHITE CHAIRS

**Tents tables and chairs can be upgraded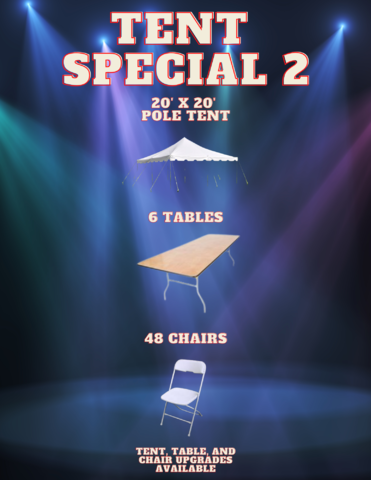 Tent
Special 2
$455
GET A 20' x 20' POLE TENT
SIX (6) 6' RECTANGULAR TABLES AND
48 WHITE CHAIRS

**Tents tables and chairs can be upgraded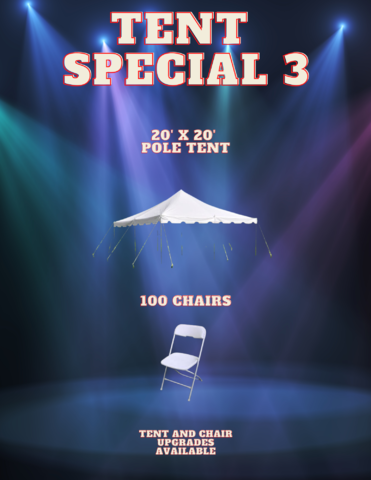 Tent
Special 3
$490
GET A 20' x 20' POLE TENT AND
100 WHITE CHAIRS

**Tents and chairs can be upgraded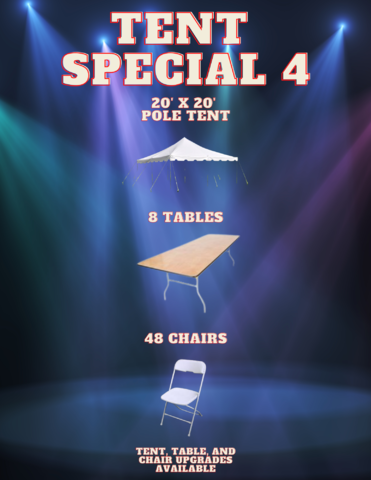 Tent
Special 4
$485
GET A 20' x 20' POLE TENT
EIGHT (8) 6' RECTANGULAR TABLES AND
48 WHITE CHAIRS

**Tents tables and chairs can be upgraded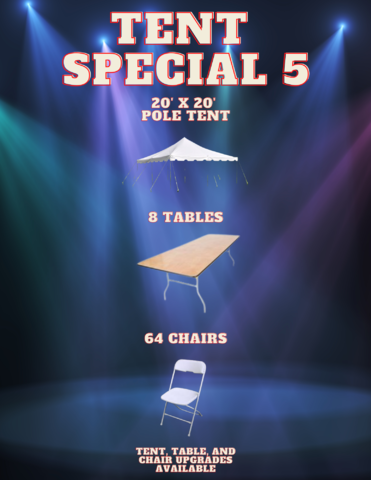 Tent
Special 5
$515
GET A 20' x 20' POLE TENT
EIGHT (8) 6' RECTANGULAR TABLES AND
64 WHITE CHAIRS

**Tents tables and chairs can be upgraded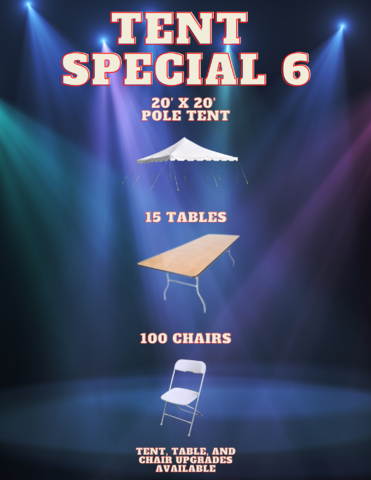 Tent
Special 6
$615
GET A 20' x 20' POLE TENT
FIFTEEN (15) 6' RECTANGULAR TABLES AND
100 WHITE CHAIRS

**Tents tables and chairs can be upgraded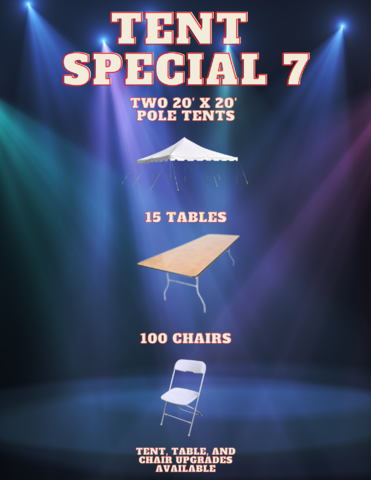 Tent
Special 7
$950
GET TWO (2) 20' x 20' POLE TENT
FIFTEEN (15) 6' RECTANGULAR TABLES AND
100 WHITE CHAIRS

**Tents tables and chairs can be upgraded