Backyard Amusements, LLC

Phone: (301) 375-8892

Physical & Mailing Address:
4540 Printers Court
White Plains MD 20695

Info@BackyardAmusements.com
CSR.BackyardAmusements@gmail.com

If you are inquiring via email, please be as detailed as possible!

Be sure to include:

Type of event you are planning
Ages of event guests
Number of anticipated guests
Event date
Event start and end time
Delivery address (Street, City, State, and Zip Code)
Piece(s) of equipment you would like to reserve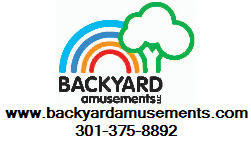 If you are cancelling your event please send an email notification to Cancellations@BackyardAmusements.com

Please ensure that your cancellation notice has been sent from your email address on file and contains the following information:

Event date
Invoice Number
Your first and last name
Your telephone number

Per Backyard Amusements policy event cancellation notices must be sent at least 4 hours prior to the DELIVERY TIMEFRAME to avoid a cancellation fee.

A Backyard Amusements representative will contact you in 12 - 24 hours confirming that your cancellation notice has been received.